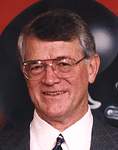 Former Atlanta Falcons Coach Dan Reeves will be our guest speaker for the next Atlanta Lions Club meeting on Friday October 14th. Coach Reeves is a dynamic and inspirational speaker and we are honored to have him. Please contact us by Monday, October 10th, if you wish to attend this meeting.
Born in Rome , Georgia and a native of Americus, Georgia, Reeves began his pro career as a free agent running back for the Dallas Cowboys in 1965. He had been a quarterback during his collegiate career at South Carolina and has been inducted into South Carolina's Hall of Fame. An all-purpose offensive back during his eight seasons (1965-72) on the Dallas roster, Reeves finished his playing career as the Cowboy's fifth all-time leading rusher, despite a series of injuries that slowed him in the later stages of his career.
Reeves stellar coaching career began when he joined the Dallas coaching staff in 1970, taking on a dual role as player/coach for two seasons. He was a full-time offensive backfield coach in 1972, but spent 1973 in private business before rejoining the staff again as backfield coach in 1974. In 1977, he took on the job of offensive coordinator, in which his duties included coaching the quarterbacks and wide receivers.
He was the youngest head coach in the NFL when he assumed command of the Denver Broncos in 1981 as Vice President and Head Coach. A genuine leader, Reeves coached the Broncos to six post-season appearances, five divisional titles, three conference crowns and three Super Bowl appearances during his 12-year tenure. He was the only AFC coach in the decade of the 1980's to lead his team to consecutive Super Bowl appearances and his Broncos appeared in the Super Bowl three times during a span of four years. His success continued as he was named the 1991 AFC Coach of the Year. Additionally, he has played or coached in a record nine Super Bowls, including Super Bowls XXI (1986), XXII (1987) and XXIV (1989) as the Broncos' head coach, and Super Bowl XXXIII as the Head Coach of the Atlanta Falcons.
Before taking the helm of the Falcons, Reeves served as New York Giants Head Coach from 1993-1996. Reeves' success with the Giants made headlines. In his first season he led the Giants to an 11-5 record and a berth in the playoffs. Reeves' 1993 season record is the best ever for a first-year Giants coach. Reeves was named the 1993 Associated Press Coach of the Year after helping the Giants improve from a 6-10 record in 1992.
It is evident that Reeves is an intense competitor who continues to influence those around him with his own strength of character and positive outlook on life.
Again, please contact us by Monday, October 10th, if you wish to attend this meeting.